Abbot and Doctor of the Church.
"What we love we shall grow to resemble."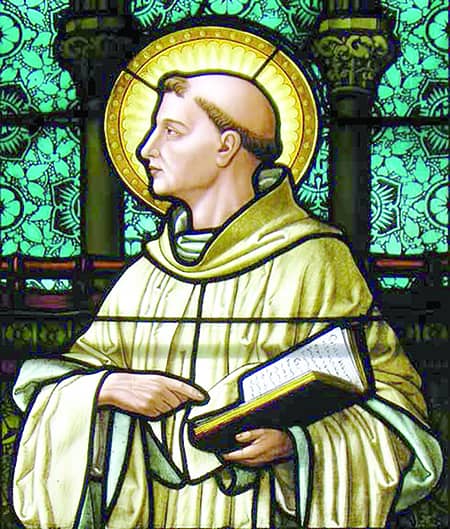 In the year 1111, at the age of 20, Bernard left his home to join the monastic community of Citeaux. His five brothers, two uncles, and some 30 young friends followed him into the monastery. Within four years, a dying community had recovered enough vitality to establish a new house in the nearby valley of Wormwoods, with Bernard as abbot. The zealous young man was quite demanding, though more on himself than others. A slight breakdown of health taught him to be more patient and understanding. The valley was soon renamed Clairvaux, the valley of light.
His ability as arbitrator and counselor became widely known. More and more he was lured away from the monastery to settle long-standing disputes. On several of these occasions, he apparently stepped on some sensitive toes in Rome. Bernard was completely dedicated to the primacy of the Roman See. But to a letter of warning from Rome, he replied that the good fathers in Rome had enough to do to keep the Church in one piece. If any matters arose that warranted their interest, he would be the first to let them know.
Shortly thereafter it was Bernard who intervened in a full-blown schism and settled it in favor of the Roman pontiff against the antipope.
The Holy See prevailed on Bernard to preach the Second Crusade throughout Europe. His eloquence was so overwhelming that a great army was assembled and the success of the crusade seemed assured. The ideals of the men and their leaders, however, were not those of Abbot Bernard, and the project ended as a complete military and moral disaster.
Bernard felt responsible in some way for the degenerative effects of the crusade. This heavy burden possibly hastened his death, which came August 20, 1153.
Taken from Franciscan Media's post by Fr. Don Miller, OFM