What is the Holy Name Society?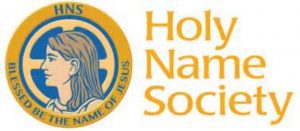 The St. Bernard Holy Name Society is a confraternity of Catholic Men canonically chartered to encourage and promote reverence for God's Holy Name in accord with the Second Commandment, to abstain from blasphemy, cursing and profane and indecent language, and to safeguard the proper observance of Sundays and Holy Days.
Holy Name men proudly profess their faith through participation in various parish ministries, through public support for the Catholic Church and its apostolic teaching, and through providing assistance to the Pastor in various projects for the benefit of the entire parish.
Meetings & Mass
The St. Bernard Holy Name Society meets monthly on the second Monday of each month afer the 8:30 AM Mass September through April. The society receives Holy Communion as a group on the third Sunday of each month; September through April.
Membership & More Information
All men of the parish are encouraged to inquire about membership in the Holy Name Society. The Society welcomes all Catholic Men ages 18 and older to join their ministry. Seasonal residents are always welcome and encouraged to join.
For further information please contact the church office at 941-778-4769 or Russell Stanley at 941-792-7433
"BLESSED BE HIS HOLY NAME, NOW AND FOREVER"